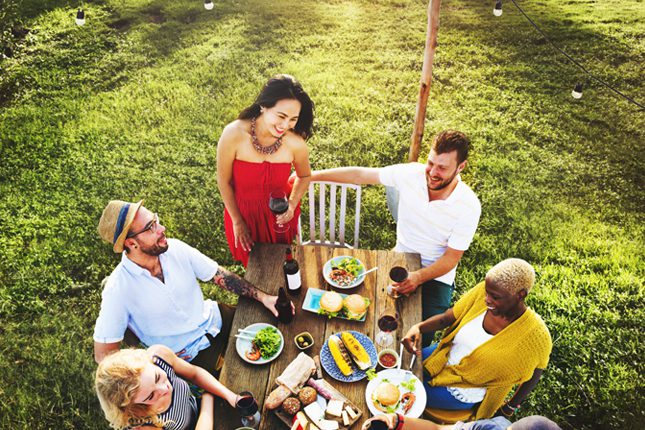 Transforming Your Lawn into a Social Distancing Hub
As healthcare professionals continue to advise us to stay home, it is more important than ever to keep strong connections between your loved ones. One way to adapt to this year's never-ending changes is to transform your lawn into the new social distancing hub for friends and family. Come together and spend the quality time you missed out on during lockdown by gathering together safely outside.
Restaurants and public hang-out spots may be starting to open again, but it's not the same experience as it once was. Many still want a safe space to have family and friends over for more private get-togethers. But before inviting your guests over, you may want help transforming your lawn with these tips from Hometurf.
Fall Cleaning
As recommended in our fall-proof guide to Autumn lawn care, there are several steps you can take to keep your grass in tip-top shape. By taking appropriate care of your lawn now, you'll be able to hold gatherings late into the fall season. While transitioning into the colder months, fall feeding provides your lawn with all the crucial nutrients it needs. This will promote grass to become thick and strong to help your lawn withstand harsh winter conditions. Our slow-release fertilizer treatment, available with our Complete and Deluxe programs, is packed full of all the essential nutrients, including nitrogen, to create the perfect green lawn.
Hometurf's grub control is another popular autumnal service as it is great for reseeding areas that have been damaged by insects earlier in the season. These treatments, as well as picking up those picturesque autumnal leaves, will ensure your lawn looks its absolute best as your new social distancing hub.
Preparing for Winter
In addition to preparing your lawn for social occasions, it's also an important time to start thinking about winter. An effective way to prepare for the colder season is to use what is already on your lawn – leaves! We recommend you cut your lawn regularly in the fall to mulch as many leaves as possible. This mulch will act as a natural compost and release beneficial nutrients into the soil. When the leaf coverage becomes too thick, pick them up to ensure that the lawn is clean and ready for winter. By making sure there are no leaves lurking on your lawn when snow starts falling, you will prevent any unpleasant snow mold from forming on top of your grass.
As we all know, Canadian winters arrive quickly and without much notice. Before we know it, there will be snow on the ground and the temperatures will be too frigid to gather outside. So, make the most out of the beautiful fall weather by requesting your free online Hometurf Lawn Care quote and ensure your new social distancing hub looks its best.
For information about our additional fall services, visit our FAQ page and for all the best tips and tricks, check out our other blog posts!