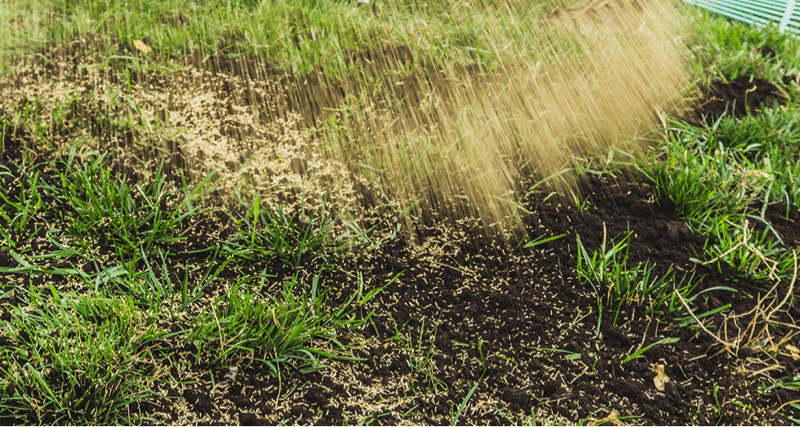 Overseeding Your Lawn in the Spring can Reduce Problems Throughout the Season
One of the best ways to control future issues your lawn might face is to do your very best to control the problems before they begin. Overseeding your lawn is one of the main ways to control problems before they begin and save yourself a lot of effort, time and money. Overseeding is also an excellent way to spruce up a lawn that's looking a bit sparse to get it back to the lush fullness you'd like to see.
With overseeding, your aim is to replace worn out grass with new, strong, green grass. It's the practice of planting new grass seed without tearing up your lawn or the soil beneath it. If you're finding that your lawn is prone to insects and disease, is taking a lot of care to keep it weed-free, or even needs more and more nutrients as the months go by, it's a prime candidate for overseeding.
Before you begin overseeding, you should consider any underlying problems that may be causing your lawn to have the problems at present. These can range from insufficient water supply, excessive thatch or other weeds.
Once everything is checked and all problems are taken care of, you can begin the process of overseeding by mowing your lawn low. You want the seeds to get directly to the ground so avoiding the obstructions of long grass is a must. You may then select the seed best suited to your lawn and the conditions it will grow in. You can then load the seed into your spreader according to the seed directions and distribute it on your lawn, concentrating on the especially bare areas.
You'll notice upon the growing in of your new grass how effective overseeding is to your lawns overall health. There will be a significant reduction in thatch growth, your lawn will be thicker and greener, harmful insects will be scarce, and your need for fertilizers and other lawn boosters will decrease!
Hometurf Lawn Care is happy to help you with all of your overseeding and other lawn care needs. Our professionals know all proper seeding and treatment procedures to help you effectively grow and maintain a healthy, green lawn all year round. Click here to see the programs we offer, we even offer an overseeding upgrade FREE with the purchase of our Complete Program. Contact us today to speak with an expert!